This week in one word: INSANE. Undeniably insane.
Work has been overwhelming. And even though I've been able to sit down after the kids go to sleep and work on some crafts (aka blanket, jewelry, headbands and bows), I just haven't had the energy to lay them out, make them look presentable, take pictures and link up to parties. So I am so very sorry. But I'll catch my breath soon.
Couple of fun things:
The hubby, Mr. Crazy, upgraded my wedding band set for Valentine's Day. I was shocked! It's on my finger now and I can't stop looking at it:
Ummm yeah, I'm in love. :)
Landon has a dance competition at the Disneyland Hotel this weekend and we're so excited for him. I love seeing my little man up on stage... and he loves it when people cheer for him. Especially in hip hop.
Then on Monday, for some reason my work decided to honor the President's Holiday. Not complaining, just shocked. So....
A friend is blessing me and my two little boys by signing us into Disneyland!!!! I made them a poster to open on Monday morning that reads:
Landon and Cameron, Can't wait to see you today at Disneyland! Love, Mickey Mouse
. They have absolutely no clue and I cannot wait to surprise them! A video will be coming for sure, you can count on it! I get to have a Mommy-boys date day and I couldn't be more thrilled. I'll be taking pictures like crazy. :)
Hope everyone has a fantastic-incredible-exciting-crazy weekend!
I'll be blog hopping at: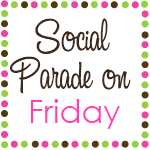 Come join the hopping-commenting fun!
XOXO