So I finally found the strength to finish our headboard wall with many thanks to Dayquil and McDonald's coffee. :) Not to mention, I actually got 12 hours of sleep last night since my hubby sent me to bed at 7pm. Good hubby.
Well, here it is. I finished putting up the decal above our headboard.
In process:
It takes a lot of arm strength to get that up there... our walls are textured so it doesn't go on as smoothly as you'd might think.
And now the result:
I LOVE it. What do you think?
Now here is my bedding. I need and want to keep the white walls, but I'm debating on changing the white fabric that hangs above our bed. Should I tie in the chocolate brown instead? Change the color of the white sconces?
Please ladies, I need some inspiration. I can only think so far right now. LOL Time to rest up and clean the house for Superbowl tomorrow. Yes, our home is the gathering location for 30 of our closest friends and family. I cannot wait to see everyone! And I have lots of recipes in mind, so in the kitchen, I will be. :)
I linked my decal project to:
Check out her page, it's amazing!
And: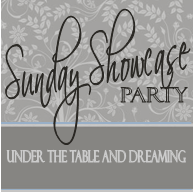 And:
It's Party time people! :)
Happy Saturday everyone. Happy Dayquil to me.
XOXO